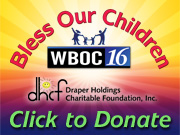 Every year WBOC works to make the holiday season brighter for Delmarva's less fortunate children with the Bless Our Children campaign.
For more than a decade WBOC has teamed up with local residents to raise money to buy Christmas presents for needy children in our area. Through your generosity we raised more than $230,000 in donations in 2013. The money raised for Bless Our Children is distributed to charitable groups all across the peninsula. These charities then buy toys for children they know are in need, making sure they have a present to open on Christmas morning that comes from the heart.
Your donations to the Bless Our Children campaign go toward children in need across Delmarva.
Specially selected corporate partners also help by collecting donations and raising funds as well. In addition, area businesses are also invited to participate in the Hebron Savings Bank Bless Our Children Campaign Challenge and Honor Roll. Any business that donates at least $1,000 to help needy families on Delmarva this year will be listed on the Hebron Savings Bank Honor Roll and will be acknowledged on the air as WBOC's Andrew Tawes and Capt. Willie Dykes read the list from start to finish each Monday during the WBOC News at Noon, each Friday on the WBOC News at 7, and on the Saturday morning edition of the WBOC News.
In week one of the Hebron Savings Bank Bless Our Children Campaign Challenge, the following businesses and organizations have each donated at least $1,000:
Employees of Bunting & Murray Construction
J Stacey Hart & Associates
Hickman Beach Pizza
St. George's Dragon Men's Club
Choptank Electric Cooperative
Peninsula Eye Center
Worcester Preparatory School Faculty, Staff and Administration
Clearview Farms
Harrington New Century Club
Eastern Shore Poultry
Steamboat Landing RV Park & Marina
Cedar Neck Club
The Aquilla Family of Frankford
WIN Transport
The Country Pineapple Antiques
Apple Discount Drugs
Apgar Turf Farm Family
Zonko Builders Staff
Mr. Mulch
Sisk Fulfillment Service
A.E. Moore Janitorial
Chesapeake Shipbuilding
Pep-Up & Employees
Ocean RV Center
Staff of Hugh H Hickman & Sons
Union Craftsman st Garrison Energy Project & Kvaerner
Dogfish Tour Team
Employees of Right Way Flagging and Sign Co.
Whtehall Neck Sportsman Club
American Legion Nanticoke Post #6
Black Knights Motorcycle Club
Dagsboro American Legion Post #24
Pocomoke Elks #1624
Brinsfield Transport
Clark and Sons Garage Doors
H & M Bay
Eastern Shore Forest Products
EZ Loans
RPS ISG International
Weed Pro - Professional Weed Control Services
Calpine
Seaford Concrete Products
Friendly's
Commander Hotel
Calvin & Elaine Campbell
Kerry & Terrie Bernstein
In Memory of Bob Conaway- From Captain Bob's Oyster Roast
Fisher's PopCorn in Fenwick, Bethany & Rehoboth
Idlewild Ruritan Club
In Memory of Oggie Wise
Mike & Nancy West
Cape Orthopedics
Trinity Logistics and Trinity Foundation
Johnny Janosik World of Furniture and Employees
Joan W. Jenkins Foundation
Tony Tank Tribe #149 Red Men Lodge
Medical Staff of Nanticoke
Delmarva Power Harrington & Millsboro Employees
Family & Staff of Bryan & Brittingham
Delmarva RV Center
Salisbury Fraternal Order of Eagles 4503
Don-Lee Margin
R.T.Absher Jr. General Contracting
Blue Hen Springs Works
Malone Homes & Home Improvements
Jack's Church Supplies
Affordable Business Systems
Somerset Well Drilling
Slaughter Septic Services
Salisbury Moose Lodge
Eastern Pile Driving
Spencer Enterprises of Ocean View
Koski Enterprise
Buffalo Soldier Motorcycle Club of Delaware
Selbyville Elks Lodge #2173
Three Lower Counties Community
John M. Welgan Contracting
Pet Poultry Products
Carey's Methodist Church
SPI Pharma
Atlantic Millwork Corporation
Boggs-Disharoon Post 123 American Legion Post
TWK Consulting Group
Crossroads Auto Repair
Trimper's Rides of Ocean City
Delmar Farmer
Fisher's Popcorn on the Boardwalk
Nelson Insurance Agency
Delaware Elevator
RAM Electric
Smokey Farms
Nagel Trucking
Atlantic Community Thrift Shop
Cordrey Charities of East Coast Garden Center
B & R Boyer Pressure Washing
Jeff's Service Center
Punkin Chunkin Association
Delmar Post #8276
Hoffman Irrigation of Federalsburg
Horner Honda
Professional Leasing
Richard Y Johnson & Son
Southern Delaware Classic Cars
Trond's Pool Care
Gary K Marshall Insurance Agency
Hollis Warren, Inc.
Wicomico Co. Teachers and Employees of the Board of Education
Auntie Annie's Soft Pretzels - Centre at Salisbury Mall
Vantage Resort Realty of Ocean City
B & G Heating & Air
Smith Rust Group - Merrill Lynch
Sound Improvements, Electrical Contracting in Georgetown
Bunting & Bertrand
Burris Logistics
Mills Rental Cars of Fruitland
Friends of Bel Air Auto Auction
Wicomico Yacht Club
Salisbury Brick
Gateway Subaru
Peninsula Imaging
Salisbury Elks Lodge
Bethany United Methodist Men's Club
ABC Refrigeration
Sundance Pools of Delmarva
Hastings Marine Construction
Bob Willey & Sons
Eastern Shore Chapter of ATCA
Pasco's Battery Warehouse
Foster Concrete
Azar Eye Institute
Bausum & Duckett Electric
Pam Price and Associates with Remax
Ocean City Elks Lodge #2645
PNC Bank
Boulevard Ford Lincoln
Tony Morgan & M&M Properties
Your generosity can help put a smile on a youngster's face. For more information or to make a donation, write: Bless Our Children, c/o WBOC TV 16, 1729 N. Salisbury Blvd., Salisbury, MD 21801. You can also make a secured credit card donation by clicking here.
You can also make donations to Bless Our Children at local Friendly's stores and area Hebron Savings Bank branches. If making a donation at the bank, please let the teller know that it is for Bless Our Children.
The Bless Our Children campaign is administered by Draper Holdings Charitable Foundation, Inc., a 501(c)(3) non-profit organization. Donations are tax-deductible to the extent allowed by law.